Window Shades Miami Beach
Decosol window covering professionals specialize in window blinds and shades as well as other window treatment solutions such as curtains and drapery in Miami Beach products as well as plantation shutters.  We also provide motorized options such as electric blinds in Miami Beach and electric shades products.  To ensure the best outcome for every client, we specialize in design services and can customize a window covering solution that is tailored to the shape and style required.
Our Mission
Since establishing our business over a quarter of a century ago, our mission continues to be delivering the highest quality products at the most competitive rates throughout South Florida.  As an industry leader in the design, manufacture, and installation of excellent window coverings for homes and offices, we are passionate about what we do and are committed to developing long-term relationships with our clients.  For us, there is no greater feeling than exceeding your expectations. Our staff goes the extra mile to ensure your satisfaction.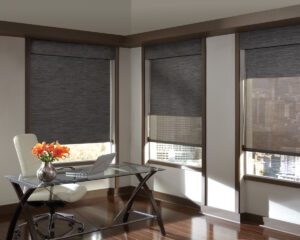 Window Treatment Services for Businesses and Homes
Whether it's Miami Beach motorized shades or window blinds for your office space or curtains Miami Beach and drapery Miami Beach products for your home, Decosol has a window treatment product that can be customized to suit your needs and personal taste.  We work with both business owners and residents to ensure they get what they are looking for. These include:
Commercial window coverings – includes electric blinds and electric shades products in Miami Beach for buildings, the hospitality industry, offices, and more. We design, manufacture, and install durable and sophisticated window treatments that are attractive and energy-efficient.
Residential window coverings – includes everything from bamboo shades in Miami Beach and cellular shades to vertical blinds and wood blinds in Miami Beach. Whether it's a quaint inland home or a luxurious beach estate in Miami Beach, we can customize window covering solutions that add aesthetics and privacy.
Custom window coverings – every one of our Decosol products can be custom-designed to fit the shape and style of your windows. Our design specialists will come to you to evaluate the dimensions of your windows, their performance requirements, and the materials you prefer for installation.
Our workmanship adheres to the highest industry standards and is accompanied by our 100% satisfaction guarantee.  No matter what products we design and install, you'll have peace of mind knowing that you'll receive the best value for your investment.
Improve Your Curb Appeal with Our Products
Whether you own commercial or residential property, the protective features and simplicity of Decosol window treatments provide aesthetically pleasing curb appeal for any shape, size, and style of window.  For hefty, larger windows, the Decosol team recommends our customizable roller shades in Miami Beach products because of their ease of operation.
If a significant amount of sunshine enters your property, our motorized shades provide additional protection against the sun's harmful UV rays.  The range of colors, fabrics, and textures that we provide was designed to complement any interior style of window.  For a taste of elegance and luxury, we can design the perfect window treatments from our Bandalux shades in Miami Beach or Hunter Douglas Shades options in Miami Beach.
The Advantages of working with Decosol
One of the primary advantages of working with our team of professionals is that we can provide an extensive range of window blinds as well as curtains, draperies, shades, and shutters that can be tailored to your home or office budget and needs.  Our custom design options are virtually limitless.  If you can imagine it, we can create it.  Furthermore, our products make your living environment safer and more comfortable while bringing you style and value in the process.
To learn more about our high-quality product line and services, call Decosol today at 305-994-7656.
We service the following zip codes: 33109, 33119, 33139, 33140, 33141, 33239, 33299 and all surrounding areas.

Now It's easier to buy! We can help you decorate your house the way you want it, when you want it – by extending your payments. PayPal Credit is quick and easy to arrange – you can get an approval the first time you visit our store. Come in today and find out all the details.